Reich: Sable Embassy
The Sable Embassy in Berlin
Throughout the  hostilities between Sable and the Reich, semi-official diplomatic relations have been retained for the vast majority of the time. Until recently, this was in the form of an exchange of Consulates. However, with the signing of the Armistice, these have been upgraded to full Embassies, with the post of Ambassador taking effect from 1st January RY 155.
The Hon. Elizabeth Collins, Sable Ambassador to the Reich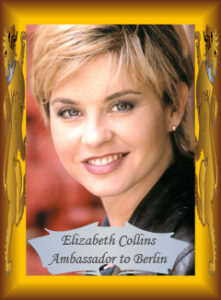 The hardest job in the Sable Diplomatic Service is currently held by Elizabeth Collins, second daughter of the Duke of Fairview. She went to Sable Mage College, where she specialised in Mech-Tech, Defensive and Structural magics, and then chose to move into the diplomatic service. She was initially worked in the commercial arm of the diplomatic service, acting as Commercial Attaché on a number of worlds, but worked her way up to be Deputy Consul, then Consul, in several Shadows in the Commonwealth. She was the first Consul to be assigned to Anghelt when it was admitted to the Commonwealth.
She was made Consul to Berlin about three years ago, and her position has since been upgraded to Ambassador. However, she is still finding that the position needs all the skills she's developed during her long and illustrious career. The fact that she was a woman led to some initial confrontations with the Reich establishment, but her sheer force of will has currently put paid to that particular problem, and she has developed a reasonable working relationship with the various governmental bodies with which she needs to communicate.
Phillip Gaunt, Sable Deputy Ambassador
Son of Michael and Sophie Gaunt. He has been heavily involved both in his family's business, and in building trade links between Sable and certain of the Non-Commonwealth states within the Commonwealth ring. He was assigned to the Sable Consulate in Berlin six years ago as Commercial Attaché, and worked on several mutually acceptable deals with certain of the trading families within the Fatherland/Sudentenland, as well as elsewhere on Magica Superior. As the next longest serving member of the mission behind Edward Emery, he was promoted to Sable Deputy Consul on the return of his predecessor to Sable in August SY152, and was appointed Deputy Ambassador on 1st January RY155.
Marion de Lattre, Commercial Attaché
Marion is the widow of the former head of the de Lattre trading concern, and during her marriage was highly involved in the family business, acting as a negotiator for a number of highly successful commercial ventures. Her name was put forward by her son, Marcel, current head of the family, when Phillip Gaunt's promotion to Deputy Consul was announced in Sable. She arrived in Berlin in October SY152, and to some extent is still finding her feet in this new and demanding position.
Neil Chesterton, Military Attaché
A former serving member of the Sable Royal Engineers, Neil Chesterton retired from active duty about sixteen years ago at the rank of Major. He was encouraged to enter the diplomatic service, as while in the Sable forces he gained a reputation as fair minded, even handed and capable of commanding the loyalty of his men without undue pressure. He has served as Military Attaché to both Lowell and Cadel, and was assigned to the Berlin Consulate in SY150.
Aisling Walker, Cultural Attaché
Aisling Walker replaced Edward Emery as Cultural Attaché when he was promoted to Deputy Consul, and has remained in Berlin ever since. She is strongly artistic herself, having studied both Sable and Reich art at university, and seems to enjoy the challenges that bringing knowledge of Sable's way of life to the Reich has to offer. However, on occasion she has been a little overenthusiastic, and has been warned by the Reich that she has bordered on actions not in accordance with her position. At this point, however, she has managed to avoid stepping over the line and being sent home.
Counsellor Jonathan "Jack" Durrant, Embassy Legal Attaché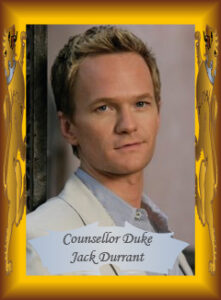 Son of Prince Thomas, and legitimate under Sable Royal House law, Jack is a graduate of SMC and followed his father and grandfather into the practice of law. He looks after the legal affairs of the mission, its staff and those few Sable citizens living in the Fatherland, and seems to thoroughly enjoy his job, as well as proving himself in that role. His family expressed concern when he accepted the position of Consulate Counsellor about five years ago, given the unpleasant possibilities that hostage-taking can have, but he countered their concerns with a strong belief that the Reich wouldn't be so stupid as to take a diplomat hostage.
Up until now, he has been proven right.
Gabriel Hunter, Press Secretary and Public Relations
Gabriel is a relatively young man who was formerly on the fast-track at one of the Sable public relations agencies, but who took on the position of Press Secretary in Berlin rather to the surprise of his co-workers. His argument is that he couldn't have been given as much of a challenge if he'd stayed in his previous position, and certainly the work has proved to be exciting in the five years that he's been in Berlin. During his tenure he has developed a network of contacts throughout Magica Superior, as well as in the Fatherland/Sudenteland bloc. It is something of an uphill struggle trying to promote the best of his country in the land of its enemy, but he has risen to the challenge and is beginning to have some success.
Major Madison Pace, Head of the Royal Guard Detachment
The Royal Guard act as the Diplomatic Protection Service for the various Sable missions across Shadow, but command of the Reich detachment is a position given only to the very best of the Guardsmen. Pace has been a member of the Royal Guard for about forty years, having previously served in the Sable Guard as a spotter. He has performed diplomatic protection duties in two or three of the Commonwealth states, and was given command of his first DPS detachment sixteen years ago. He was assigned to Berlin with Counsellor Durrant, about four years ago. Like other spotters from the Sable Guard, he is usually accompanied by a familiar, in his case a small, black mini-dragon, about 2ft long.
Captain Jonathan Harkness, Royal Guard
Captain Harkness joined the Royal Guard after a distinguished career in the Navy, and especially Naval Intelligence. He transferred to the Royal Guard about five years ago, and was assigned to the Sable Embassy in the Reich almost immediately, rather to the surprise of both the Royal Guard, and the Sable diplomatic service. The Reich initially made objection to his posting, but their objections were satisfied and he was allowed to stay. He looks to be in his thirties, with dark hair, blue eyes and a devil may care attitude when he's off duty, although when he is on duty, he is a consummate professional. His nominal commander in Berlin is Major Madison.
As well as the leading representatives mentioned here, the Sable Embassy in Berlin does have a supporting staff, with staff posting rotations usually occurring on July 1st each year.
Accredited Sable Journalists in Berlin
Despite the fact that the Reich only has two journalists in Sable (largely because there are only two State-authorised newspapers), they have allowed three Sable correspondents to report from Berlin. However, their actions are strictly monitored, and they are expected to at least give lip service to the Reich Department of Propaganda, which has the right to revoke their accreditation at any time.
Russell Moss, Accredited Representative of The Morning Post
A career journalist with a reputation for trouble-free reporting in his prior posts around the Commonwealth, Moss was offered the Berlin assignment two years ago, and has been sending home regular reports since taking up his position. He has a reasonable working relationship with the RDP (as far as any journalist who comes from a background of freedom of the press can), which appreciates that in his earlier work in the Commonwealth, and more recently within the Reich, he has been sensitive to all sides of an argument, and disinclined to cause trouble for the sake of it.
Candida Newton, Accredited Representative of The Sable Examiner
Candida is more willing to take risks with her reporting than Russell Moss, and on occasion her desire to tell the unbiased truth has got her into hot water with the Reich authorities in the four years she has been in Berlin. However, she believes that the reputation of the paper she works for is more important than continually kow-towing to the RDP, and has done her best to maintain her journalistic integrity. The main reason that she has not been ordered back to Sable, is that the Reich authorities know that were they to do so, then it is likely that Heinrich Strasse, one of their most useful representatives in Sable City, would be sent back to Berlin by return of mage.
Ian Cecil, Accredited Representative of The Times
Being the correspondent for your government's main newspaper assigned to the capital of your enemy country is never the most comfortable situation to be in, but Ian Cecil has risen to the occasion since his arrival in the Fatherland, nine years ago. He plays relatively straight with the RDP, but his stories often have a cutting edge to them which is more fully appreciated in Sable than Berlin.