Azure: Key Players
Key Players in Azure
Queen Alison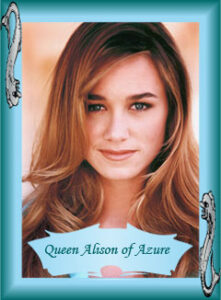 By birth, the Queen is the eldest child of King Robert and Queen Claire of Sable, and elder twin to King Cathal of Agent. She was brought up by her parents on the King's Isle on Sable itself, although from a very early age she knew that she would eventually become a queen in her own right, as it had been decreed in the earliest days of the Realm. She was a boisterous child, much more interested in being out enjoying herself than studying. She was also something of a bully, being surprisingly strong for her age: she certainly made her rather more studious brother Cathal's life a misery at times, and the rivalry between them often only just stopped short of active violence.
Eventually, however, she began to calm down, and did qualify to attend Sable Mage College. She specialised in healing and natural magics – especially water magics – although she also has a grounding in combat and defensive magic. She graduated with her Masters at the age of twenty-five, and then spent a couple of years away from Sable. However, she returned in time for her twenty-seventh birthday, and on that day she was formerly granted the realm of Azure by her father.
She was crowned Queen of Azure six months later, and has remained as the underwater city's monarch ever since. There, she takes her responsibilities very seriously, and is popular with her people. She has done a lot to consolidate Azure and its nearest neighbours, forming a bloc similar to the Commonwealth in the Inner Lands. As Queen, her most trusted advisor is her former Regent, Hopkin, who has offered the benefits of his experience and guidance as her Chancellor throughout her realm.
In appearance, Alison is fairly small, about 5'4″, with a light, wiry figure. However, despite her size, she's fit and looks quite capable of taking care of herself. For many years, she remained single, although she has had occasional favourites over the years. In SY110, however, she finally married Colwyn Rhydderch. As is common within the Sable Royal Family, from which Alison originates, the Queen and her Consort were blessed with twins in October: Heledd, who is Alison's Crown Princess; and her brother Iorwerth RY115.

Prince Consort Colwyn
Colwyn is the eldest son of Duchess Aeronwy Rhydderch, a long-term member of the Azure Council of Elders.

Crown Princess Heledd
Heledd is Alison's heir to the Realm of Azure.

Prince Iorwerth
Iorwerth is Heledd's younger twin.

Hopkin the Steward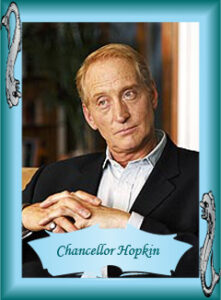 In the early days of the Realm, Azure was ruled by a man named Hopkin, although he only ever claimed the title of Steward and stepped down as Azure's Regent on Alison's accession to the throne. Since then, he has acted as Her Majesty's Chancellor and Chairs the Council of Elders.
From historical record, Hopkin is one of the oldest denizens of Azure, although in appearance he has remained virtually unchanged since he stood as Regent for the Realm before the Queen acceded to the throne. He is known to be a Talented mage, specialising in natural and defensive magics, as well as being a competent general – the latter ability having been called upon thankfully little in Azure's history. He has a close relationship with Her Majesty, although it is definitely paternal in nature, rather than physical.

Warleader Aeron Kendrick
Alison and Aeron have always been close, and in the past there was speculation that they might wed. However, this was finally put to rest when she married Colwyn Rhydderch. Aeron is the Commander in Chief of the Azure forces, and has a reputation as both a fine warrior and an excellent general.