Reich: Key Players – Delatz Family
Children of Rupert Delatz
He shares his residences with Herzogin Annifrid; their daughter, Isabelle; their granddaughter, Kristina; another son named Josef; and a foster son named Wolfram Bergen, who is in his early teens. As far as Josef, the newest member of the household, is concerned, while he is recorded as being the RFSS's son, his mother's name isn't in the records, so it is unlikely he is the Herzogin's.
Rupert and his family spent some time away in early-, as the younger children are now all in their early-20s.
Back to the Reich Main Page
Back to the Key Players Page
Children with Annifrid
Other Children
Children with Annifrid
Berthold Delatz, Erbherzog von Bremen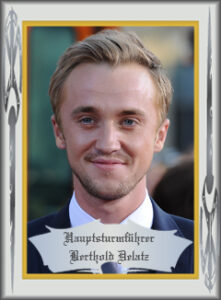 Stefan and Berthold were the teenage, twin sons of the Herzog and Herzogin von Bremen. Both were Talented, but that was one of the few things they had in common. In nature, interests and beliefs they were very different to each other, like chalk and cheese: whereas Stefan was somewhat studious and thoughtful, even quiet, Berthold was and remains by far the more boisterous of the two. With his elder brother's untimely death, Berthold has been confirmed as the Reichsführer's heir by the Imperial Council.
Berthold excels at sports although academically, he is less gifted than his late brother. He was very involved with his local Reichsjugend chapter, where he became a platoon leader relatively early and proved himself to be a natural leader. With the completion of his formal education (which appears to have been done outside the Reich, although his graduation qualifications have been confirmed by the Reich Board of Education), he is undertaking officer training at the SS-Junkerschule at Bad Tölz. He is Talented, and has been given a grounding in magic to bachelor level, and once he has spent some time with the Reich forces, it is believed that he will study further at the mage college at the SS-Schule Haus.
He has taken after his father in that he is a talented artist for a young man of his age. However, he seems to have little musical ability and at this time seems uninterested in concerts, the theatre, etc, preferring more active pursuits like riding, especially hunting, and atheletics.
Kristina
Berthold has taken after his father in other areas, and is a regular visitor to the Bremen Lebensborn Centre. He has one known daughter, Kristina, who was brought up by her grandparents (particularly her grandmother) at Panenske Brezany.
Isabelle Katarina Delatz
Friedrich Isidor Delatz
Rupert has two sons with other mothers, who pre-date his marriage to Annifrid
Josef Engel Delatz
Klaus von Bremen
And a rumoured daughter called Juliana
Rupert and Frida also have a foster son: Wolfram Bergen, Ward
In the Imperial Records, Wolfram is stated to be the son of Georg von Raeder, and Silke von Halle.