Reich: Key Players
Other Important Reich Players
Rupert Delatz, Herzog von Bremen, Reichsführer-SS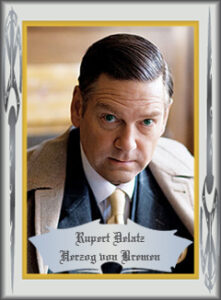 Rupert Delatz is acknowledged as the second most important individual in the Reich. He prefers to spend time dealing with his security responsibilities, although he is normally seen at the side of the Kaiser at important state occasions. He is also probably the most feared man in the Fatherland, which in itself is no mean achievement.
In appearance, he bears a resemblance to King Robert of Sable, although Rupert's features are somewhat harsher. Unsurprisingly, they have a somewhat colourful relationship, given that their philosophies are diametrically opposed, as is their practice of magic. Rupert stands about 5'10", is of light to medium build, and despite his title, he speaks English with a perfect public school accent. When he chooses, he can be very charming, which bolsters his successful reputation as a ladies man. It was therefore somewhat surprising when he married Silvie Heusser, in SY100. Their elder son, Sigmund, was born a little over a year later; their younger son, Berthold was born in RY117
He is a licensed pilot, both civilian and military; enjoys hunting; and has been accused of being something of a daredevil and adventurer. He also has a love of classical music, especially Wagner, Beethoven and Schubert, and is an accomplished pianist and violinist, regularly attending concerts in Berlin and occasionally performing. In addition, he is a talented artist. He makes his primary residence at Panenske Brezany, a fortified manor house about five miles outside Berlin, although he does have a small apartment in the SS Village. He also holds title to the ducal seat at Schloss Bremen, where he spends some of his time; and the Wewelsburg, a gothic castle on his ducal lands which is the focus of the SS training complex.
He shares his residences with Herzogin Silvie, and their granddaughter, Kristina; as well as another son named, Josef; and a foster son named Wolfram Bergen, who is in his early teens. As far as Josef, the newest member of the household, is concerned, while he is recorded as being the RFSS's son, his mother's name isn't in the records, so it is unlikely he is the Herzogin's. Rupert and his family recently spent some time away, as the younger children are now all in their early-20s.
Silvie Heusser Delatz, Herzogin von Bremen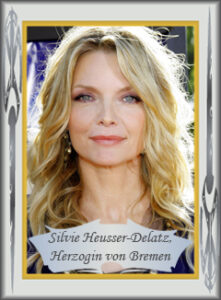 Silvie Heusser was born in January RY057, to the Fürst and Fürstin von Minsk, in Sudetenland East. She is a beautiful blonde woman, who stand around 5'8″. After her father's death, her elder brother, Georg, became the title holder . She was the first of her family ever to manifest the Talent, which was identified at a young age. She went straight to Berlin Mage School after completing her basic education, where she came top of her class. Then, rather to the surprise of her family, she chose to join the police, in Berlin. There she proved herself to be an able investigator, and when she returned to Mage School for further studies, she specialised in Investigative and Forensic magics.
She met Rupert Delatz during the investigation into the murder of NSRAP Chairman Urs in RY094, and they disagreed immediately over the identification of the culprit. About six months later, she became one of his mistresses, but she obviously made an impression, as she married Rupert in RY100 to become Herzogin von Bremen. She survived an assassination attempt in RY145, although she was badly injured. Since then, she has been seen in public a lot less often, although she does occasionally accompany her husband to concerts. When she is seen, she walks with a cane.
As well as being an excellent investigator, she is a concert-quality cellist.
Annifrid Ragnarsian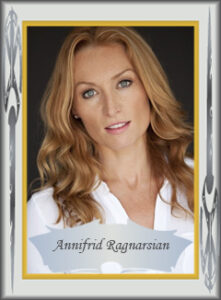 Annifrid has been acknowledged within the Reich as favourite Rupert's mistress since the early-RY130s, and despite having no official standing with the Imperial Council, she still wields considerable influence with those who wish communication with the Reichsführer-SS. This, in turn, means that she is treated with considerable deference among the higher-ups of Reich society, despite the irregular nature of her relationship with the Herzog von Bermen, which has led to her being known as the "Shadow-Herzogin". She holds the rank of an Honorary Obergruppenführer and is leader of the SS Order of the Dísir.
She is a tall, beautiful woman, standing around 5'10", and on occasions when she and Rupert are seen together, they make a very handsome couple. When out in public on semi-formal occasions, she comes across as warm, and supportive to the Reich's aims and beliefs, and is a popular figure with the common people. Her origins aren't commonly known within the Reich, although the rumour is that she is a Viking Princess and widowed Queen, who her lover brought home to the Fatherland after one of his trips abroad. Whatever the truth of her origins, she is the mother of the two younger Delatz children, Isabelle and Friedrich. She lives on the neighbouring estate to Panenske Brezany.
Rather surprising everyone, she and Rupert's wife, Silvie, have a strong friendship and make a formidable team. Some of the RFSS's detractors have even been known to say (very quietly) that the reason why he's something of a workaholic, is that when he's at home, Silvie and Annifrid rule the roost.
Details of the Delatz children can be found here.

General Conrad Berthelmes, DMg, Imperial Chief of Staff,
KSS (Winter Circle)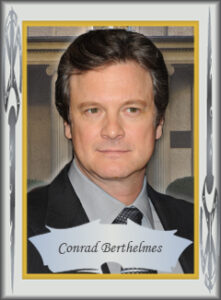 Conrad Berthelmes is the paternal half-brother of Kaiser Wilhelm. It is believed that they knew each other as children, although it isn't certain which of them is older. Despite being one of the Higher Nobility titleholders, his background is as both a soldier and a lawyer. He is Talented and holds a Doctorate in Magic. In the early days of the Reich, he served in the Armed Forces, specifically the Ausland-Heer, where his skill as a strategist, as well as his abilities as a soldier and a battle mage, raised him to the rank of Generaloberst. Even then, Conrad was one of the few people in the Reich who maintained a good relationship with both the Kaiser and the Reichsführer-SS, often acting as a liaison between them.
After a distinguished military career, the still youthful-looking Berthelmes left the Army in RY079, and returned to university to study law. Following his graduation at the top of his class, he went into practice, where he excelled in the same way as he had the military. He specialised in internal Reich law, but was also often approached by the Kaiser on other legal matters. He came to further prominence when he was appointed to head the Berthelmes Commission into amending the Shapeshifter Laws, in October RY100.
He became Imperial Chief of Staff in RY110, making him one of the highest ranking individuals in the Reich. He acts as Wilhelm's advisor, sounding board, and enforcer, as a result of which, despite not being an elected official, he has considerable say in Reich policy. He continues to act as a bridge (and occasional referee) between Wilhelm and Rupert, and in the latter context, despite having never served with the SS, he holds the honorary rank of SS-Obergruppenführer, and was made a Knight of the SS in RY 130.
Conrad has been married three times. The first marriage, to Ashley Warren, ended in divorce before the founding of the Reich. His second,  to Krista von Jochen, in the early days of the Reich, ended with her death in an attack in Shadow. Since RY135, he has been happily married to Gabriele, and splits his time between Berlin and Westphalia. When he can, he visits his family's ancestral lands near Nürnberg and Gabriele, and their children are often to be found there, especially in the summer.
He is thought to have few hobbies outside of work, except for riding and hunting, although he is known to play a mean game of chess.

Eva Berthelmes, DMg, Chairman of the Nationalsozialistische Reichsarbeiterpartei (NSRAP)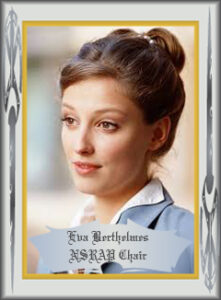 Born in RY064, Eva Berthelmes is Conrad's daughter by his second wife, Krista. Despite being identified as Talented at an early age, she decided to do her State Service with the Wehrmacht, before going to Mage School in Berlin. After graduating top of her class, she rejoined the Wehrmacht, and had a successful career with the Ausland-Heer as a communications specialist, during which time she was sponsored by the army to do first her Masters and then her Doctorate in magic. She finally left the service at the rank of Oberstleutnant in RY112, and followed her father's footsteps into Law School.
She had a successful second career as a specialist in international law, working in the Imperial Department of Legal Affairs, and was expected to be appointed to the Judiciary (specifically the Berlin HöherGericht). It therefore came as a surprise when she replaced Erwin von Geert as Chairman of the NSRAP in RY137. During her tenure with the Party, she has been a major architect of Reich policy, and is a trusted adviser to Kaiser Wilhelm.
She has been married once, to a fellow officer in the Ausland-Heer, but he was killed in action about two years later. Since then, her love life has occasionally made the Court and Social pages, but for the most part, she avoids the limelight in that regard. She is known to be a skilled pianist, and is also a decent watercolour artist. She lives in Berlin.
Details of the other Berthelmes children can be found here.

Reichskanzler Georg Emmerich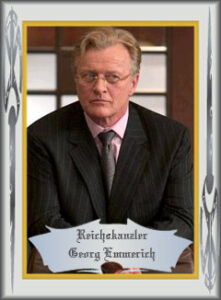 Georg Emmerich is a former Naval officer who later became a career politician. He did his State Service within the Heimat-Kriegsmarine, re-enlisting for a further twenty years, during which he gained the rank of Kapitän zur See. After leaving the Navy, he turned his significant talents to politics. He spent nearly twenty years as a Lower House representative for the Province of Wilhelmsburg, before becoming an active member of the Berlin City Council. He was first appointed to the Upper House of the Reichstag, representing Berlin, about sixteen years ago, and by dint of dedicated networking and friends in high places, he moved quickly up the NSRAP hierarchy in the Senate.
When he was reappointed to the Senate, he quickly gained enough support to become the leader of the NSRAP in the Upper House. Since then he has served as Reichskanzler, making him the most senior elected politician within the Reichstag, and giving him a seat on the Imperial Council. He is the political face of the Reich, acting as host for state visits to Berlin from the Aussenhandel and other nations with diplomatic relations with the Fatherland. He also travels abroad as the Reich's senior politician, often accompanying the Kaiser or the Kaiserin on state visits, as well as embarking on many of his own.
He is a dedicated family man, having been married to Franziska for about thirty-five years, and they have two sons in the Navy and a daughter who has recently been elected as Lower House member for her father's old constituency
Frederic Kramer, Imperial Chief Justice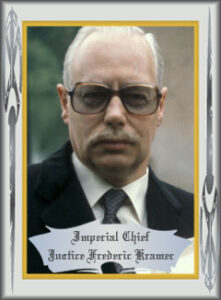 Frederic Kramer, head of the Reich Judiciary, has been Imperial Chief Justice since RY149, having previously served as one of the ReichsRichteren. He studied at Berlin Mage College, and then did his State Service as a clerk with the Berlin UntereGericht, where he first became interested in the study of law. He went back to university and read law, taking the necessary exams to become qualified to practice criminal law. He also continued his magical studies on release, once he was working in court, and gained a doctorate specialising in healing magic, with particular reference to mental magic, on the theory that the combination of the law, trusting his instincts, and being able to fall back on truth reading when all else failed, would make him more efficient as a prosecutor.
Once he had spent some years with the Berlin local court, he returned to his home province of Weimar, working first in the provincial court in Odessa, and then in the ProvinzHauptstadtGerichten in his home city. He returned to Berlin about twenty years ago, when he was appointed as an Imperial Judge, and was promoted to his current position fifteen years later.
As well as being Imperial Chief Justice, Kramer is the uncle of the Herzog von Weimar, making him a member of the hoher Adel. His most important piece of unfinished business is to discover who had his elder brother, Eugen, assassinated ten years ago.

Klemens von Brandt, DMg, Imperial Chief Registrar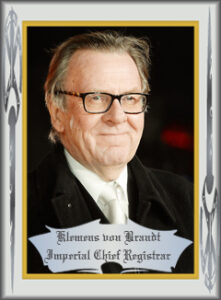 The Imperial Chief Registrar is in charge of the department which employs the twelve Imperial Registrars, who are responsible for acknowledging births and deaths within the nobility, and ruling on the suitability or otherwise of noble marriages, especially within the High Nobility. In addition to the twelve regular registrars are three Investigating Registrars – forensic mages who have responsibility for investigating crimes which may involve members of the nobility, or unexpected deaths thereof. The Registrars are also the equivalent of the Sable College of Arms.
The current Chief Registrar, Herr Doktor Klemens von Brandt, was formerly one of the Investigating Registrars. He is Talented, and attended Berlin Mage College, where his specialities were Investigative Magic and Healing with a Genetics specialisation.
Archmagus Tobias de Vries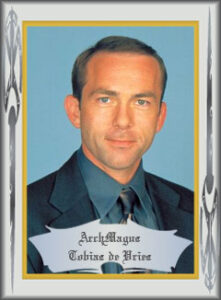 Archmagus Tobais de Vries is the most important mage in the country, running, as he does, the Reich Bureau of Talented Affairs. He is a member of the Reichskabinett and is considered the foremost civilian sorcerer in the Reich.
Born in RY069 to a Talented family, his potential as a mage was identified when he was only eleven years old. He chose to go to Mage College immediately after leaving school, instead choosing to delay his State Service until after he gained his Bachelor's degree. He undertook State Service with the Heimat-Heer, but decided not to remain in the armed forces once he had completed his civic duty.
Instead he returned to Mage College to take a Master's in Investigative Magic and then joined the Kripo as an criminal investigator. They sponsored his Doctorate, during which he extended his specialities to include Communications magic, and he passed with flying colours. About five years later, after being heavily involved in an investigation involving a rogue mage turned serial killer, de Vries was approached by the RBTA to become a full-time investigator for the Bureau, and he decided to take the opportunity.
He spent over ten years working with the investigators supporting the ReichsMagieren, before being confirmed as one of their number in RY123. He was appointed Archmagus in RY133.

Arndt Friedemann, Guildmaster, Reich Pilot's Guild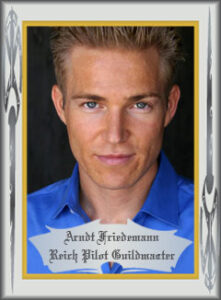 Grand Pilot Arndt Friedemann is the first officially independent Guildmaster of the Reich Guild of Pilots, which organises and regulates the ATS and is operative in the lands controlled by the Fatherland. He is both Lebensborn and Talented, and joined the SS shortly after leaving school, through which he attended the SS-Schule Haus to learn magic. Towards the end of the course, it was discovered that he was better suited for a career in the Forstapo than as a battle mage.
Considering it wise to take that advice, once his Bachelor's degree was completed, he joined that section of the RSHA organisation. He had a successful career in that capacity, reaching the rank of Brigadeführer, although he was allowed to return to the Schule Haus to take his Master's, specialising in Transport and Communication. With the arrival of the ATS  in the Reich, he initially worked under Dominik Gerlinde in administrating the system. Once it was given more independence, he was approached by the RFSS to become the Reich Guildmaster, and welcomed the change of career.
He now lives in Berlin, with his wife and young twin sons.

Hans Rasch, Ritter von Berlin, Imperial Champion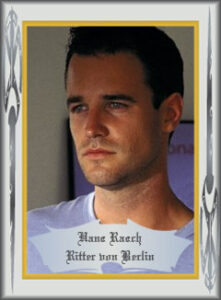 The current Imperial Champion is Hans Rasch, who was born in RY109 and brought up within the Lebensborn system, although it is now known that he is the son of Jürgen Kessler, the Reichprotektor of Sanguine. Hans went to Berlin Mage School, where he specialised in offensive and defensive magic, and then served for some years in the Ausland-Heer. He attained the rank of Major, proving his competence both as a military commander and in physical combat.
It was the latter which brought him to the attention of the Kaiser, when he saved Wilhelm's life in the only assassination attempt in living memory which has got passed the Imperial Knights, killing two of them in the process. On the strength of his actions that day, the Kaiser offered him the position of Imperial Champion, at the same time raising him to Ritter von Berlin. He has held his position for twenty years, although he does also spend time on active duty, and has never been seriously threatened on the exceedingly rare occasions that his services have been required.