Reich: Key Players – the Berthelmes Family
Children of Conrad Berthelmes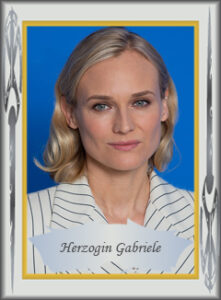 Conrad has been married three times, once before the Reich was established, and twice since. His first marriage ended in divorce, but one son from that marriage, Joshua, has been Registered with the Imperial Council and accredited as Conrad's heir.
His second wife, Krista Irmtraud, was killed in a raid on Anklam in RY083, before it was formerly brought in to the Aussenhandel der Reichsverband. They had one daughter, Eva who is now the NSRAP Chair.
His third wife is Gabriele von Freiburg, a former fighter pilot and heroine of the Reich, who he married in Since RY135, and they still appear very much in love. She still works as a part-time flying instructor with the Luftwaffe.
In addition to his marriages, he has been known to visit the Berlin and Nürnberg Lebensborn Centres on occasion. He also spent a leave of absence after the death of his second wife, when he travelled on both the Inside and the Outside, from which period his son Joscelin dates.
Obergruppenführer Erbherzog Josh Conrad, Kommandant of the SS-Schule Haus, KSS (W)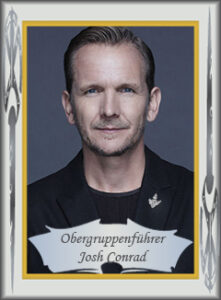 Josh looks to be in his mid-forties. He stands around 5'11", and is of medium build, weighing in somewhere around 160lb. From his bearing and general stance, it's obvious he's been in the military at some point, and he has the build of a pretty serious athlete. He has a pleasant, open, lived-in face, with distinctive light blue eyes and sandy-blond hair which is cut reasonably short. He is prone to five-o'clock Shadow.
He was appointed Head of the SS-Schule Haus in RY150, around the same time that the Imperial Council issued the Writs acknowledging him as Erbherzog von Nürnberg. According to the Imperial records, he was born before the Creation of the Reich. He was made a Knight of the SS in December RY154.
Despite being a serving SS officer, he rarely puts on a uniform. He does, however, always wear an SS rank pin in his jacket lapel. The RFSS appears to accept this affectation. When on official business, he appears to favour well-cut suits, with either simple or dress shirts but not necessarily ties. In more informal circumstances he seems to prefer long or short sleeved shirts, often of denim and cotton, and comfortable trousers, although these are almost always neatly pressed. Most of the time, he doesn't carry either a firearm or long blade, but he always wears his Honour Dagger in a scabbard at the small of his back.
His engagement to Princess Astrid (his second cousin) was announced in April RY158, and they married in a SS ceremony, followed by a more formal Royal Wedding at St Rafael's Cathedral, at Winter Solstice the same year.

Obergruppenführer Joscelin Kennard-Berthelmes, KSS (W)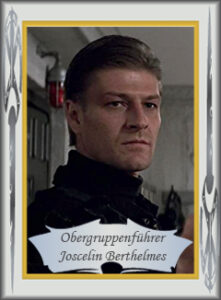 Joss was born on the Outside, where his father had travelled on his leave of absence after the death of his second wife, Krista. His official Reich date of birth is April RY087. He first came to the Reich's notice in the early-RY120s, and shortly thereafter became one of the masterminds of the Rostock Project (along with RFSS Delatz), which attempted to find alternatives to magic to power the Reich fleet. He was seriously injured when Andrew de Lacy destroyed Rostock in November RY123, but eventually recovered.
He is known to be a ritual magician and energy channeller of great skill, as well as an adept blue sky thinker. He is currently commanding the Advanced Weapons Institute at Bad Tölz, following the destruction of its former subsidiary on Niedersachsen. He and his elder brother Josh get on reasonably well, and he stood as sponsor at Josh's SS wedding. He has been a Knight of the SS since December RY134.
Joss is married to Freya Ragnarsian, sister of Annifrid Ragnarsian (the Shadow-Herzogin von Bremen), and they have three sets of twins: Douglas and Malcolm (b.122, but recorded as being aged 40), and Callum and Morgan (b.123, aged 38), all of whom were born before Joss came to the Reich, hence the time inconsistencies; and Anna and Caitlin (b.129 in Bremen).
While acknowledged by his father and the SS Keeper of the Lineage, he has never been formally legitimised in the eyes of the Imperial Council, for purposes of succession, as his father was not married to his mother (named in the SS records as Eilidh Kennard), and he was not born within the Lebensborn System.
Children with Gabriele
Xavier
Xavier was born in February RY137. His Talent manifested early, as the result of a playground accident, and he went to the Berlin Mage School a year early, in September RY154. He is currently completing his final year of studies, and it is believed that he may then go to the Berlin Military Academy, following in his father's footsteps as a soldier.
It was initially believed that he would be granted the title of Erbherzog von Nürnberg, as Conrad's apparent eldest son. However, he had still not reached majority when his half-brother Josh became known within the Reich, and was acknowledged by the Imperial Council. He does not appear to be too bothered by this development.
Zoë and Elisabetha
Conrad and Gabriele's twin girls were born in RY144. They are currently both still the Berlin Party Gymnasium (grammar school).
Dietmar
The younger son, Dietmar, was born in RY151.
Other Acknowledged Children
Jürgen Kessler, Reichskprotektor of Sanguine, KSS (W)
Elder acknowledged Lebensborn son of Conrad Berthelmes (b.RY019 at the Nürnberg Centre).
More information about Jürgen can be found here.
Standartenführer Rikart Schultz, Head of the SS-Honour Guard, KSS (W)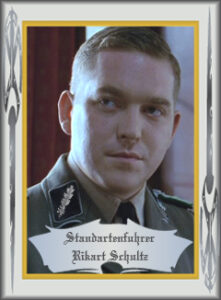 Younger acknowledged Lebensborn son of Conrad Berthelmes (b.RY093), with Marina Schultz, who is currently the senior administrator of the Berlin Lebensborn Centre.
More information about Rikart can be found here.