Sable: Other Royals
Other Acknowledged Members of the Royal Family
There are also a few individuals within Sable who are acknowledged as Royal, but are not direct descendents of King Robert.
HRH Duke Michael, Keeper of the Symphony
Michael is the King's younger brother, and is accorded the rank of Royal Duke. Although he is not a fully Talented mage, he is a Sensitive as far as instinctively knowing the health of his patients is concerned. He is known to have one or two other unusual abilities: not the least the ability to heal others almost by touch.
In the earliest days of the Kingdom, he went to Sable University to study medicine and graduated with honours, quickly going through is training to become a fully qualified doctor. He was one of the driving forces behind developing the Sable Royal Hospital into the foremost medical facility within the Kingdom of Sable and the Commonwealth, and spent many years in charge of it. However, he resigned as full-time administrator at the beginning of SY 155, and has now reverted to consulting a couple of days a week.
He has the reputation of being the best non-magical healer in the Kingdom, with specialities in trauma surgery and the maladies of shapeshifters. He is also one of the most experienced teachers of shapeshifting in the Kingdom, both to individuals and groups. He shares his brother's love of art, and is a superb artist in his own right. He has a house in the city, but is now living there less of them time. His wife, Sofia, is a Talented healer, and they have twin daughters, Louise and Vernonica, who are in their early teens, as well as a younger son named Gabe (Gabriel) who just turned ten.
It has been rumoured that he is also the father of Dr. Dirk Weber, formerly of the Weimar Republik. Michael has not confirmed this publicly, and there has been no announcement to the effect from Sable Palace.
HRH Field Marshal William O'ConnorField Marshal (Rtd), Lord William of Harrington, KG
Military Advisor to the Sable Forces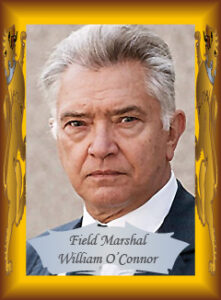 William O'Connor, Lord Harrington, has been in Sable for as long as anyone can remember, and was instrumental in the setting up of the Kingdom's armed forces, as well as the Sandhurst Military Academy and the College of Military Magic. More recently, he has also helped to establish the Sable High-Tech forces with General Prince Andrew. When he stepped down from active command, in SY 151, he was made Lord Harrington in recognition of his services to the Crown, and given lands around that city. While he has passed actual day-to-day command to William and Francis, he is still recognised as the best general Sable has ever had, and he continues to sit on the Sable Staff Council.
O'Connor is around 6'0″ tall, and fairly well built, and has been acknowledged as the King's cousin. He also bears some resemblance to Princes William and James. He is treated with the respect due to one of the Royal Family, and was one of the earliest members of the Order of the Garter. He was previously married, to Angela, and they had one son – Calen FitzWilliam – giving him family links to the Commonwealth Defence Shadow of Cadel. However, Angela has not been seen for some years now, and it's possible that she has passed away, although no official announcement was ever made.
Nowadays, he spends his time visiting military installations around the Kingdom, the Commonwealth and those under control of the external forces, as well as teaching classes in combat magic at SMC and SCMM when he's in Sable City. He has a house up on Park Rim Drive, overlooking Hyde Park, and an estate out near Harrington, however most recently he has been spending a significant amount of his time working with Prince Thomas in the Silver Shadows.

HRH Duke Heinrich
Former Journalist for Die Welt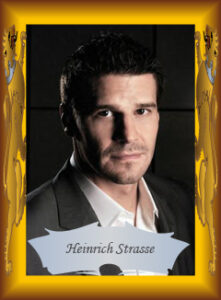 Heinrich Straße first came to Sable as the accredited representative for Reich newspaper Die Welt. He was born in the Reich Lebensborn System in November RY 047, and grew up in that environment. He is not Talented. He did his State Service with the Reich armed forces, then attended Berlin University, where he studied law, although he never practised it. While at university, he interned for two summers with the Courts and Legal department of Die Welt, and realised that he enjoyed that far more than he did law. On graduation, he took a Masters in journalism, and then joined Die Welt as a junior reporter in RY 076. He quickly made his mark,  and was often embedded on the front line with the Reich forces, seeing many of the battles against Sable first hand. Eventually, however, he became tired of living on the edge and requested to be taken off the front line and back to the office. He was appointed head of the Courts and Legal department in RY 107. Then, in May RY 125, he was offered the position of accredited journalist for the paper in Sable City, and leapt at the opportunity.
He remained in Sable until August SY 152, when he was recalled to Berlin on fears that he had "gone native". Shortly after his return, he dropped off the map, and his colleagues in both the Reich and Sable feared that he may have been "disappeared". He didn't resurface again until Autumn SY 157, and when he did, it was in Sable, at a press conference with King Robert, who acknowledge him as a member of the Royal Family. The specific relationship was not publicised, although his status as a Royal Duke implies that he is not a direct descendent of the King.
Duke Stephen Lacey
Stephen first came to Sable in May SY153, and is believed to be the half brother of Prince Alban on his mother's side. Although he has taken a variant of the de Lacy name, he has not been credited as a member of the Sable Royal Family, although he has been accorded the rank of Duke.
Nothing is really known about his origins, which has caused interest among the Royal watchers in Sable City, and if the King knows anything – which seems likely – it certainly isn't being made public. He is roughly the same age as Alban, and is strongly Talented, and went up to Sable Mage College as a freshman in September SY153: a year behind his believed half-brother, who went to college early. He is now living full time in college.
Stephen is a quiet young man, and is a gifted pianist as well as being academically talented. He enjoys keeping himself fit, often going running, and is an excellent horseman. He speaks English with something of an accent.
He is not to be confused with his close namesake Duke Stephen de Lacy, who is the son of Prince Christopher and recently left SMC.
Back to the Kingdom of Sable Index