Sable: Royal Grandchildren
The Royal Grandchildren
Field Marshal Prince James, Former Regent of Murray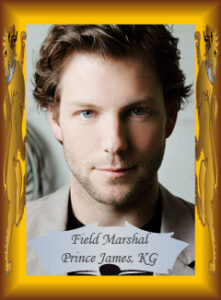 Prince James, the only child of Prince William, is King Robert's eldest grandchild and is one of the few who was not brought up in Sable. Until recently, he was resident primarily in Murray, where he stood as Regent for his grandfather. Due that time, he did visit Sable, and maintained a warm relationship with his parents, grandparents and the rest of the family. Prince William was surprised when James was chosen as Regent, but since his son was given the position, he has proven himself to have been a good choice for the role. With the discovery of the Weimar Republik, James was recalled to Sable in June SY 156, to help organise the forces combatting the Republik
He takes after his father in both appearance and abilities, although his temperament is somewhat calmer, more like his mother's. He enjoys academic work, and is also a born administrator, which has proven very handy in his duties. He is both Talented, and a soldier of some skill, and is one of the generals who is sometimes called upon to conduct the active war with the Reich when theatres of actual conflict break out, although most of the time his duties on Murray take precedence. Most especially, however, he has more control of the Royal Powers than any other member of the family save the King, which makes him a force to be reckoned with on the battlefield and elsewhere, and is the primary reason why he was chosen as the King's Regent.
He is married to Dr Rosalyn Shannon, a Talented Murray noblewoman and paediatric physician, whom he met during the restoration of the Murray: She was on the rebuilding committee with a special brief regarding the needs of those children who lost one or both parents in the disaster. While she is somewhat younger than he is, despite his youthful appearance, it appears to have been love at first sight. They have two children: a daughter named Rylee (aged 9) and a son called Cade (aged 6).
Children of Prince Andrew and his first wife, Regan
Francis, Field Marshal Commanding the Sable Army, KG
While Francis's features do carry the unmistakable stamp of the Royal House, his colouring is somewhat different: and to those that remember Queen Regan, he takes after her, rather than his father. He stands around 5'11", making him about the same height as his father. He is younger than Marion, Elaine and the now-disgraced Sarra, but due to being Andrew's eldest son with Regan in good standing in Sable, and with Dominic, Alexander and Richard no longer being in the succession, he is second in line to the Throne.
He had a slightly tough time as a child, in that his siblings fell into natural groups (twins, triplets), whereas he did not, which meant that he often had to stand up for himself against his kin. This led to him being somewhat introspective, until his skill at arms was noticed by Field Marshal O'Connor, who made sure that it was developed and later discovered his natural abilities as a tactician and strategist.
He is very military minded, with only O'Connor, the Lord Protector and his father capable of besting him within the Kingdom, and his skill is slightly above that of Prince James. He is stronger than some of his siblings, but he relies on speed and cunning rather than brute force to get him through most situations. He is also a graduate of SMC, although he prefers the military life to a magical one.
When O'Connor stepped down as Commander-in-Chief, and his Uncle William was promoted to that position, Francis was appointed Field Marshal commanding the Sable Army. He is a dedicated and skilled leader, and has the unswerving loyalty of his officer corps. He works closely with both the Lord Protector and Prince Andrew, as well as the other senior officers at the sharp end of the war out in Shadow, and splits his time between Sable itself and the three military headquarters Shadows (Lothian, Ceredigion and Uaithen).
Privately he is quiet and an avid reader, especially of military history, where he is a recognised expert. He also runs and fences, the latter with considerable skill, and plays chess and go when he can find a suitable opponent. He is married to Alexandra, daughter of James Blake and a former Colonel in the Royal Engineers, and they have two sons, David and Michael, and a daughter, Sylvia. He was made KG on the same occasion as his younger sister Cerian.
Princess Marion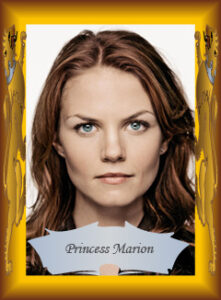 Despite her youthful appearance, Marion is the eldest child of Andrew and Regan still known to be in Sable, although she is below her brothers in the succession by virtue of being a daughter. She has dark hair and green eyes, and is the middle child of a set of female triplets, the oldest being Sarra. Marion is a quite and reflective person, and is a very skilled magical healer. She is a gentle soul, her chief joy in life coming from healing others. She rarely raises her voice or gets into an argument, preferring to walk away and come back another day than fight. She's known to be very studious, and worked hard at SMC where she specialised in medicine, notably the healing of the mind, and is a consultant mind mage at the Sable Royal Hospital, as well as often working on particularly difficult cases with Queen Claire.
When out of the public eye, she writes fiction and composes poetry, and enjoys playing the violin. She is married to Doctor Malcolm Carlisle, the Sable Palace staff physician, and they have two children: Melanie and Richard.
Princess Elaine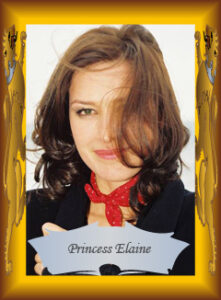 Unlike many of the family, Elaine's Talent – her ability to be a magician – is quite weak and she struggled at SMC, although she did eventually achieve a bachelor's degree. However, as a consequence, she is something of a loner, only having so much in common with her highly magical family, and spends a lot of her time travelling around the kingdom, sailing on the lake, or walking in the mountains nearby.
Some years ago she stated her intention to visit the worlds outside of Sable and the Commonwealth, and dropped out of sight for some time. However, she returned to Sable a little over a year ago, looking older and perhaps a little wiser, and picked up where she left off with her travels around the kingdom itself, renewing old acquaintances along the way. She is also sometimes seen around the city, and has a lot of friends there. She is quite down to earth and sensible, possibly because of that, and while she doesn't have any official role, she has a reputation for being able to talk to the right people if something is needed as she has made a lot of contacts during her travels.
She has one son, Troy, who was born in the years she was away and has been an infrequent visitor to Sable up until now, although he is known to the family and acknowledged as legitimate by the King.
Prince Adam, Master at Arms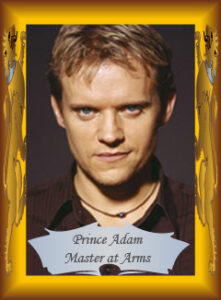 The eldest of a set of male triplets. He stands around 6'0″, and is pretty solidly built. Despite being Talented, Adam has never shown any desire to train as a mage. Instead, he has become the athlete of the family and enjoys any number of individual and team sports. He's also an adrenaline-junkie, and will do things simply for the thrill, rather to the concern of his grandfather. His chief joy in life is seeing how far he can push himself.
For a long while, he didn't have an official position in the scheme of things, but he became well known and well liked in Sable City itself, and throughout the Commonwealth, sometimes acting as a roving goodwill ambassador. However, when Crown Prince Dominic began to absent himself, and resigned as Sable's Master at Arms, Adam agreed to step into that position and has since proved his skill as a teacher of arms.
He is charismatic and easygoing, at ease in a group or by himself. He's also very self-reliant and, outside of the family, enjoys spending much of his spare time with his friends in Sable City. He has been known to have long-term girlfriends, and every time the press wonders if this is the one who'll tame Prince Adam, but he has never settled down. However, rather to his shock and surprise, he has recently discovered that he now is a grandfather, and this is taking some getting used to: a former girlfriend whom he thought had merely left, had actually been spirited away to have a child in Shadow, unbeknownst to Adam, and while both mother and child are now dead, before his death the son, Leo, in turn fathered a baby boy, Owen. Adam has now taken responsibility for the child and is seeing to it that he's brought up in Sable Palace.
Prince Thomas, Viceroy of the Silver Shadows
The middle of the male triplets, although he is slightly shorter than Adam and is more lightly built. He is a lawyer as well as a mage, and spent some time attached to the Attorney General's office, but resigned his position in April SY154, shortly after the signing of the Armistice with the Reich, to undertake other duties for his grandfather. He was appointed Viceroy of the Silver Shadows as of 1st April SY155. More details about Thomas can be found here.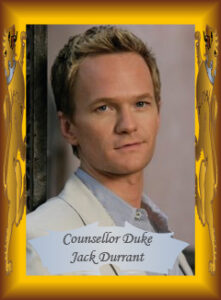 Something of a womaniser, Thomas has at least two children out of wedlock:
Jack Durrant, legitimised under Sable Royal House law, and currently serving in the Sable Embassy in Berlin; and
Sebastian, who was born on 9th December SY152 but, having spent some time in fast time, has just gone up to Sable Mage College, but shows all the signs of having his father's charm and way with women.
Thomas has been described as a paternity suit waiting to happen, but thus far, no-one has taken him to court.
Prince Christopher, Marshal of the RAF, Sable Royal Air Force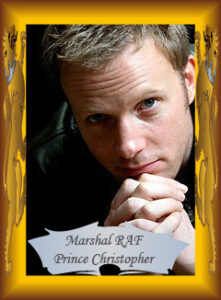 Youngest of the male triplets, although as with other members of the family, apparent ages vary. He made a conscious decision not to go to SMC, although he is known to be Talented. Instead, he did a history/geography degree at the Sable Military Academy, showing natural aptitude for both the academic and military sides of life. In addition, he has taken lessons from his grandparents in some unspecified arcane disciplines.
He graduated top of his class, both militarily and otherwise, and asked to be posted to the Sable Guard, where he discovered very quickly that life appealed to him. He made a lot of friends quite rapidly, and also caught the eye of the then commander, Colonel Stephen Galbraith. When Galbraith was invalided out after an accident, and Christopher took his place on Galbraith's recommendation. Most recently, however, he has taken up the position of General (RAF) in the Sable External Forces, given that his experience with the Guard has proven his flair for air combat, an area of the military where many of his family are lacking in experience. He has also been taking formal mechanised flying lessons.
He is married to Irina Karyan, a woman from beyond the Commonwealth, and they have a daughter named Liselle, who is in her mid-50s and a much younger son called Stephen, who has recently completely his bachelors at SMC and is considering what to do next. He rides a 50ft blue and gold dragon named Cathair.
Prince Gwillym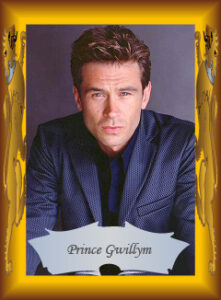 Elder of a pair of twins, born more than twenty-five years after Adam, Thomas and Christopher, shortly before Andrew and Regan disappeared. He is Talented, but quite weakly, and he has never gone to SMC, preferring to go to Sable University where he studied maths and chemistry/alchemy. As far as his arcane studies go, he has spent a lot of time with Queen Claire, who is said to have taught him some of her more unusual abilities.
Gwillym is more circumspect than his sister Cerian, to whom he is devoted, and rather more quiet and studious, although he has worked with the more military minded of his kin. When on vacation, he is something of a wanderer, and spent a long time looking for his father during Andrew's absence, having never known him as a child. Since Andrew's return, father and son have become quite close, and they have sometimes been sent out of Sable to work together, and with Cerian, on the King's orders.
Princess Cerian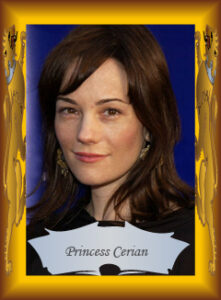 Cerian is the youngest of Andrew's children with Queen Regan, and is Gwillym's younger twin. She is fairly small, about 5'4″, remains youthful in appearance, and is a very confident and outgoing young woman. After she graduated from SMC, she stayed in Sable for a while, before setting out to travel beyond the Commonwealth. It has been suggested that some of her travels were at the request of General Graham, with whom she has formed as somewhat unlikely friendship, based on one or two mutual interests, including a fascination with pre-Christian Celtic mythology and symbolism.
In addition to being Talented, she is strongly artistic, if not particularly studious, and has had several exhibitions of her work displayed in Sable City and elsewhere. She is also Chancellor of the Lacey School of Art, in Avonbridge, although she isn't at the campus on a full-time basis, due to her commitments elsewhere. She is always accompanied by a large German Shepherd: the original was given to her by her father a long time ago, but whether her current canine companion is the same animal is open to conjecture, given the amount of time that has passed.
Most recently, she has been assigned out of Sable at an unspecified location, although she does return regularly to see her family and maintain her responsibilities in Avonbridge, and was made a Dame of the Order of the Garter about three years ago.
No Longer in Sable Under Bill of Attainder
Chartris
Born the eldest of Andrew and Regan's children, Chartris broke away from the family after graduating from Sable Mage College, and was eventually disowned by both his father and later the King. Indeed, he may have been responsible for whatever misfortune befell his parents, although since his return, Prince Andrew has neither confirmed nor denied this. There is a price on his head for treason, as far as Sable is concerned, although the standing order is that he should be returned for trial – and execution if proven guilty – rather than be summarily executed. As yet no trace has been found of him.
From historical record, it seems that he resembled his mother more than his father. He is said to stand around 5'11", and is supposed to have black, shoulder length hair and green-black eyes.
Princess Sarra
The eldest of three triplets (with Marion and Elaine), those who still remember her say that she was somewhat loud and impetuous. Like many of the Royals, she was born Talented, and initially studied at Sable Mage College. However, she got involved in some potentially dangerous high-jinks during one of the public mage tests, and ended up being asked to leave the College in disgrace, with her Talent blocked for the public safety – the only Royal to have ever received this dubious honour.
A short while later, she also disappeared, and it has been suggested that for the last several years she has been working for Herzog Delatz in the Reich, although whether voluntarily or otherwise is unknown. However, the Crown has expressed an interest in information regarding her whereabouts. In appearance, she was about 5'6″ in height, of medium build, and bore a strong resemblance to her sisters.
Details of Andrew's children with his second wife, Niamh, can be found here.
Other Children of Prince Andrew
Duke Alexander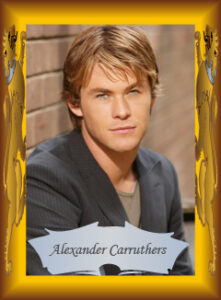 Alexander Carruthers is very much an unknown entity, having been brought up outside of Sable. His mother is believed to be Jennifer Carruthers, who was recently appointed Guildmistress of the Sable Pilots' Guild. Younger than Dominic, but older than Andrew's children with Queen Regan. He is a very infrequent visitor, preferring to travel outside of Sable itself the vast majority of the time, and has waived his rights to his place in the line of succession. He currently appears to be some kind of unofficial liaison with New Oceania.
Duke Richard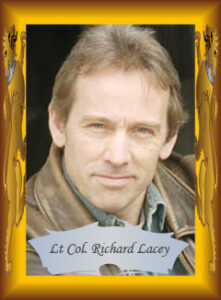 Richard Lacey is Alexander's younger twin. ike Dominic, he was brought up in Sable City, rather than in the palace, and is known to be Talented. He formerly held the rank of Lt Colonel in the Sable Army, preferring to stay within the operational ranks of the Army, rather than joining the lofty command positions of his younger siblings. While in the service, he could be somewhat foolhardy and adventurous, but was often sent on missions out of Sable for the King and others, and is a Knight of the Order of Merit for actions in the field. He is now recorded as "Honourably Discharged".
Of his various brothers and sisters, he is closest to Prince Adam, who acted as best man at his wedding; and to his older brother Dominic, with whom he has a great deal in common. Richard and his wife, Caitlin, have three children – the twins Nicholas and Roselyn, and a son named Ian. He now lives primarily on the Outside, where he is apparently on a permanent assignment for His Majesty, although he does occasionally visit Sable. He is known to enjoy life and when around can be the life and soul of the party.
He has two other children, who were apparently born and brought up in the Reich:  Patrick Lenzen, who is now considered legitimate under Sable Royal House law; and Markus Lenzen, about whom even less is known, and who has not been legitimised, as yet. Both are older than his children with Princess Caitlin.
As well as Andrew acknowledging Alexander and Richard, in recent years it has come to light that he was held captive in the Reich for some years, after he disappeared following the death of his first wife, and as a result, a number of senior figures in the Reich, and especially the SS, are also his descendents.
Children of Princess Emily
Princess Elanor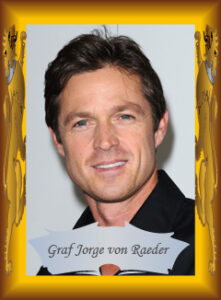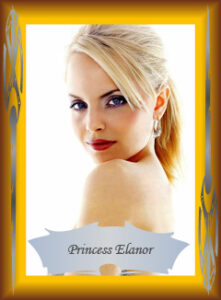 Elanor is a boisterous young woman, who is a very sociable creature, and enjoys a challenge. When she firsts came to Sable, she became very well known around the City and spent a while trying to find her place in the scheme of things, which included going out of the Commonwealth on occasional missions for her grandfather, as well as attending SMC and gaining a Bachelor's degree.
Rather to the surprise of many in Sable, and disapproval of some, at the beginning of August SY 153 she married a Reich nobleman, Jorge von Raeder. This was cautiously accepted as a marriage for love, and a bridge between the two nations. Having spent some time away, much of it in Aurellis, they returned with three children – the twins Emma Louise and Wilhelm, and a little boy named Dieter.
The situation became more difficult when Jorge was returned to active duty with the RSHA a bare three months later, at the behest of RFSS Delatz, as head of the Auslands-SD based in Sanguine. This resulted in murmurs in certain quarters that perhaps Her Highness should get a civilised divorce. Partly in reaction to this, Elanor undertook officer training at Sandhurst, graduating in June SY 154, swore her Oath of Loyalty to King Robert, and then served for the prerequisite five years, some of it in faster Shadows than Sable (including around Weimar), hence her service came to an end in early-October SY 158. Elanor and her family now split their time between her husband's estate in Klieburg, and Sanguine, although she does bring her children to visit Sable on a regular basis.
Prince Edmund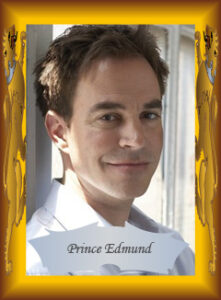 Edmund is the youngest of the Royal Grandchildren, having been born a few minutes after his sister Elanor. He is Talented, but delayed going to Sable Mage College for some years,  choosing instead to travel as he finds his niche, and doing occasionaly jobs for his grandfather. He finally went to SMC in September SY 153, and graduated in SY 158. He is now deciding what he wishes to do next. Brother and sister get on reasonably well, although they don't spend as much time in each others' company as they used to. He has occasionally visited her and her family on Sanguine, rather to the dismay of his Sable Guard detachment.
He is a keen sportsman, especially rugby and cricket, and represented Sable on a recent cricket tour to Eboracum.